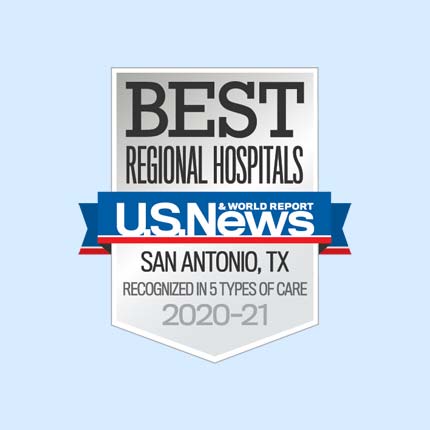 U.S. News & World Report has named Baptist Health System as a Best Regional Hospital for 2020-2021. Based in Washington, D.C., U.S. News & World Report is the global authority in hospital rankings with more than 40 million people visiting their website each month for guidance on important issues affecting their lives.
"This honor validates the incredible work by each of our staff members, our physicians and employees, every day on behalf of our patients," said Matthew Stone, Baptist Health System President. "This year has been especially challenging as we navigate through the COVID-19 pandemic," Stone said. "Yet, our healthcare providers continue to succeed in providing the highest level of care for San Antonio and the surrounding communities we serve."
Dr Steven Cyr, CMO of SASpine, agreed. "When people come to North Central Baptist Hospital, they receive what I believe to be: highly integrated, state-of-the-art, compassionate care for the most serious and complex conditions," Dr. Cyr said. "What patients can really feel is the empathy, the hope and caring their staff provides every single day to my #SASpine patients– from the operating room to the floor, the level of expertise is inspiring. Patients receive, not only the best care possible but also an outstanding experience from people passionate about caring for others," he added.
Baptist earned "High Performing" ratings in five categories including heart failure, colon cancer surgery, chronic obstructive pulmonary disease (COPD), and hip and knee replacement. The high-performing ratings are in recognition of care that is significantly better than the national average as measured by factors such as patient outcomes. "High Performing" is the highest rating U.S. News awards for receiving the highest rating possible.